Ice Cream Store Consultant – 5 Reasons To Hire One
So, you're ready to take the plunge and get into the Ice Cream business. But how do you get started? What are the most important things to consider? Can you do this on your own, or do you need advice from an expert?
If you realize that you need some help, the best way to go is to hire a consultant who can help you with some key issues. Here are five things that a true Ice Cream Store Consultant can help you with when opening your wonderful new Ice Cream shop.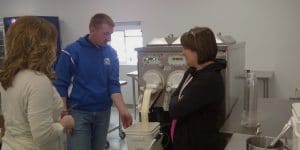 Choosing the Best Location/ Demographics
This is extremely important. Knowing the demographics of the area you would like to open your store in is probably the most crucial decision you make. Part of this decision will come from what kind of store you want to open. If you are set on a location or area based on where you live or where the rents are in your budget, then knowing the demographic will help you determine what to carry and what the store should look like. Your demographics may determine the style or décor of your store.
Deciding on the Menu and Type of Ice Cream for Your Demographic
Once you know where your ice cream store is going to be and what the neighborhood is like, you can start to think about what the people who are most likely to frequent your store will be most likely to buy. If your potential audience is older, more affluent people, artisan-crafted hand-packed ice cream, or gelato might be the more prominent seller. If you are in a trendy neighborhood, you might want to do more exotic flavors, maybe get a beer and wine license and make Beerlatos (beer floats using gelato are all the rage in some places). If you know that families with lots of kids may have a different budget and tastes, considering frozen custard and tasty old-fashioned toppings like hot fudge and sprinkles will be on the menu. Whether or not you should add coffee beverages to the menu, should you have options like waffles or just waffle cones, how many flavors you should carry, are all the kinds of questions you need to answer. A professional consultant will be an enormous help in making those decisions.
Choosing the Right Equipment for the Job
Know what to get is the first step. How many drop coolers, how many frozen custard machines, what are the best cups, spoons, cones should you buy – these and dozens more are the right kinds of questions to ask. Get an expert to guide you through that, and they will save you a ton of time and money.
Purchasing the Best Equipment and Product at the Best Price
Once you determine what you need to buy or lease, getting the best price on everything is going to save you money. A consultant can help you determine where to buy the products you need to make ice cream, custard, gelato, or artisan frozen treats. Should you buy used or new equipment? Who offers the best most reliable and most cost-effective items? You must consider many factors, and getting expert help will get you up and running more quickly and safely than if you go it alone.
Operating and Cleaning the Equipment
This is very important. You MUST be appropriately trained on the use of ice cream machines, knowing how to keep your freezers at the right temperature, where to place the equipment for ease of cleaning. How often to clean the machines and how to keep them clean. If you don't know those things, you will waste product. You may find yourself continually having to pay repair people to fix your equipment or even having to replace coolers, freezers, and custard machines. Knowing how to use the equipment and best practices for keeping everything super clean and functional is something that not only you, but your entire staff needs to be trained on.
When you hire a consultant, they can help you train and learn how to train your team. Maybe they will help you determine how much staff you need and train that first group of employees, but they will not be with you forever. Your ice cream store consultant will get you to the finish line and beyond, but they will leave you with the knowledge you need to own and operate a successful ice cream store with a top-notch staff and the ability to train new hires as required.
You will be the talk of your new neighborhood once you have all your "cones" in a row.
If you're interested in learning more about starting and owning a successful ice cream store, contact us – Lancaster Manufacturing. We offer a free guide to starting an ice cream store. We can help you with everything you need and even have advice on marketing your store once it's up and running.