Frozen Custard – Not Just the Taste but the Experience
Many sweet shops, cafes, and restaurants offer some sort of ice cream dessert. Gelato has become very popular in America. It's always been a big part of the dessert scene in Italy and now American's flock to shops that offer tiny tastes of their gelato flavors.  Many shops offering homemade ice cream do the same. It can be frustrating if you're the person waiting for the family of six in front of you while they try every flavor in cases.  There are ice cream shops that mix the ingredients on stone or marble slabs while the hungry eyes of children (and adults) watch the process. It's part of the fun. Nitro Ice cream is all the rage in some places. The secret of nitro ice cream is in the rapid freezing of the ice cream mixture with liquid nitrogen. While it's fun to watch, Nitro has some downfalls.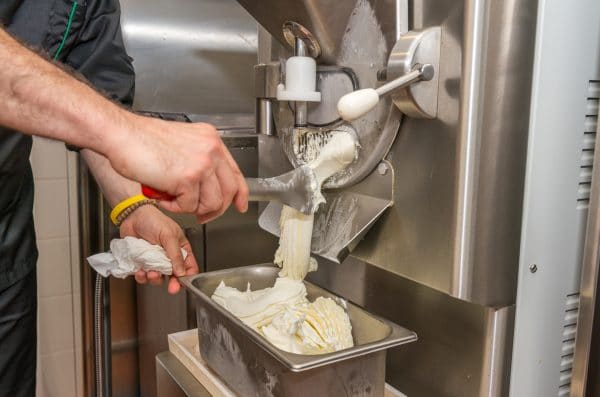 It's also time consuming so customers need to have a level of patience while each serving is prepared. The smaller the ice crystals, the smoother the ice cream and the better the flavor but, over nitro or put it in the freezer and those ice crystals start to grow bigger and you lose the benefits. Also, you need to be an expert on how to handle the nitrogen so as not to leave any in the mix causing stomach and esophagus issues for the person eating it.
Any of these Ice cream products require a lot of time, skill, and devotion to the process but they do offer an experience. So, why add frozen custard to your sweet shop, coffee house , bistro, or even your food truck?
You have to remember that Frozen Custard originated on the boardwalk on Coney Island. It was a novelty and a special treat, but it was also an experience. Have you ever watched someone make taffy? Watch them pull and twist that sweet treat into shape? The frozen custard machine is a visual experience. If you plan to add this treat to your existing business as an add on or if you want to start a business where frozen custard is the star, note that part of the experience of frozen custard is the machines themselves. Watching the machines running, dispensing custard is part of the experience. Kid's love to pull the handle on the custard machine when they are set up at buffet restaurants and are part of the dessert choices.
Putting the machine where it's visible so customers can watch as the custard comes down the slide into the bucket.
is part of the joy of eating it. The other great thing about Custard is that when it comes out of the machine, it's actually warmer than most ice creams. It comes out of the machine at about 20 degrees as opposed to the 5 degrees that most hand-dipped ice cream is scooped out at. It feels softer and warmer in the mouth. That too, is part of the experience.
At Lancaster Manufacturing, we pride ourselves on selling the best in Frozen Custard Machines. You can buy a brand-new machine, single, double, or triple barrel, air or water cooled. We have both table-top and floor models.
If you plan to serve one flavor of ice cream as an add on to your business, then a table-top unit might be all you need. Coffee shops often make this choice because they can use the custard as a base for milkshakes and even coffee beverages. Custard is only part of their revenue stream but can really add to the experience and bring in more customers. Also, it's a great addition for people who want a great cup of coffee but need some offering for younger members of the family. A lot can be accomplished with nothing more than vanilla as a choice.
If ice cream is going to be the main event in your business, you should probably get a floor unit. That way you can make a lot more ice cream and have a lot more flavor offerings
Machines can be air or water cooled. Each type has its advantages. The great thing is that the frozen custard is always fantastic. Call us at 877-356-6176 and we'd be happy to discuss which options would work best for you.
Air-cooled is a good choice if you have only one machine and need to move it around in the store at times or have limited space, but they produce more heat and require a condensing unit.
We also sell a great line of used machines including the best name brands such as, Ross, Leon's, Carvel, and Electrofreeze.  Our pre-owned machines are fully refurbished to make sure you get the best equipment and the one that best suits your plans.
No matter what you decide to do with your frozen custard offerings, remember to make the machine one of the stars of the overall experience.