Get Ready to Add Fall Flavors to Your Dessert Menu with Frozen Custard
Oh no! Pumpkin Spice EVERYTHING is back. If you can't beat them, you should consider joining them. Pumpkin spice and fall flavors are super popular from coffee to pancakes and, yes, even ice cream and custard.
If you own an ice cream store, you are undoubtedly gearing up for the season. You know that you will need to add some fall flavors to your menu. Pumpkin, cinnamon, apple, gingersnap, and even fig and sweet corn are rave favs for custard or ice cream flavors in harvest time.
If you don't presently offer ice cream of frozen custard treats at your food establishment, now is the time to acquire a frozen custard machine and add some delicious offerings to your dessert menu.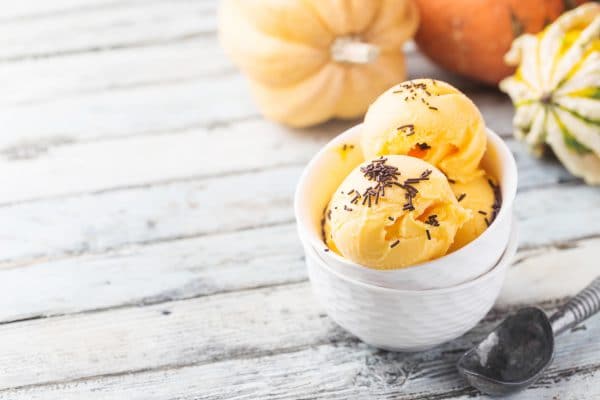 Coffee Shops and Cafes
You are no doubt keeping up with the big chain coffee franchises and doing your version of pumpkin spice lattes and coffee drinks. But suppose you consider adding one or two frozen custard machines to your set-up. In that case, you can make a variety of hot and cold beverages using custard and tasty desserts.
The popular Italian coffee-based dessert offering, the affogato, can be made into a seasonal treat by substituting the usual scoop of vanilla gelato or ice cream with pumpkin or ginger cinnamon frozen custard. The ice cream is then "drowned" (affogato means drowned in Italian) with a shot of hot espresso.
Adding coffee to fall flavor custard will make a delicious milkshake or cold coffee float. If you offer desserts, a scoop of fall flavor ice cream will take your desserts up a notch.
Some Great Desserts You Can Make Easily with Fall Flavor Custards
Ice cream pies and ala mode:
If you like to bake your pies, why not make ice cream pies. Pie is a popular fall treat. Apples and pumpkins are plentiful in the season, and they make two of the most popular pies, so now is the time when they take the spotlight. If you enjoy baking, you might want to make your own crust but if you don't have the time or the inclination to make crusts, check with your food distributor. They will no doubt have some ready-made flaky crusts and graham cracker offerings that you can use to start with.
Fill a graham or even chocolate graham crust with freshly made pumpkin custard or apple cinnamon ice cream and freeze for at least 4 hours. Add some fresh whipped cream and crushed pecans, and those slices will fly out the door.
Apple pie with apple cinnamon ice cream makes for a super ala mode. Of course, good old vanilla is excellent with apple pie too. Add a dash of cinnamon and nutmeg to the custard before serving for a little extra spice.
Ice cream sandwiches:
Think out of the box and make ice cream sandwiches that will surprise and delight your customers. You can bake large cookies for your sandwiches, and once they have thoroughly cooled, fill with your choice of seasonal ice cream or custard and freeze.
Warm cookies topped with ice cream, whipped cream, and toppings can be served for one person or to share.
For something really unique, offer ice cream pizza, an excellent choice for Italian restaurants and pizza parlors, or ice cream stores with table service. These are sharable desserts and should be eaten right away – not a great choice for take-out or delivery.
The first step is to bake a thick cookie the size of a small round pizza tin. Use a pizza baking pan for this if you have them in your establishment. Make sure that you create a ridge around the cookie-like the edge of a pie crust or pizza, so you have a round well to fill with your ice cream. Once the crust is fully cooked, put it in the freezer for 30 minutes to cool. While that is cooling, take a cheese grater and grate a fair amount of white chocolate to resemble grated cheese.
When the cookie is cool, first spread vanilla custard all over the cookie, then top with strawberry sauce to replicate the tomato sauce, and finally, top with the grated "cheese" (white chocolate). Serve this to the table, sliced like pizza wedges, and watch the kids squeal with delight when they bite into this fun and creative treat.
Suppose you don't presently offer ice cream or frozen custard and would like to explore the possibilities. In that case, Lancaster Manufacturing provides many models of new and pre-owned frozen custard machines, both floor and countertop models. Don't miss out on the extra income you can generate this fall. Get on the Pumpkin Spice train!