Make Your Frozen Desserts Irresistible
Things are opening up, and people are slowly sticking their toes out into the world again.
The weather is getting warmer, and it's time to gear up for those hot summer days and nights. If you have an ice cream machine, it will soon be whirring with activity. Custard, Gelato, Ice Cream, and Sorbets should be pouring out to the customers who have missed the ice cream experience.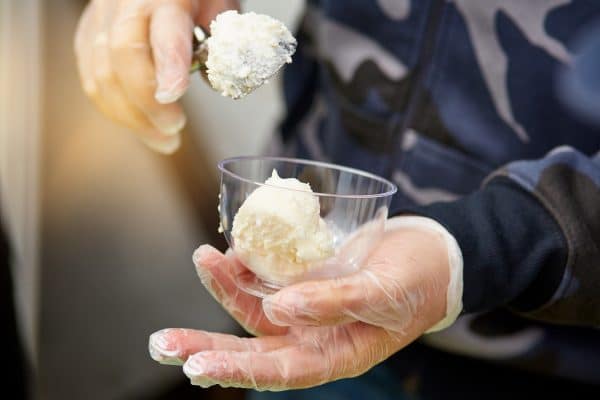 If you own an ice cream store, a café, bistro, or restaurant that offers ice cream or frozen custard, now is the time to entice people to come in and enjoy your beautiful desserts. The trick to selling more dessert is to make it as pretty to see as it is delicious. When food is pleasing to the eye, we can practically taste it in our minds.
Frozen custard melts in your mouth with a smooth texture different from other frozen desserts, but it's best served right from the ice cream machine. It is served a little warmer than the gelato or ice cream you store in your drop-in freezer. Frozen custard is irresistible to the taste, whether in a cone or cup-like gelato. But you can be more creative and think "outside the cone" if you want to attract customers or upsell dessert.
Offer Seasonal Fruit Toppings:
Berries, mangos, fresh pineapple, and cherries are all great toppings. Like the custard, they will need to be consumed more quickly to get the most out of them, but today's consumer is looking for more organic and healthy choices. Blending fresh fruit into a shake or using it for toppings will intrigue and attract an audience that is looking to mix healthy options with the lusciousness and decadence of creamy custard.
Make your own fresh whipped cream topping. It may be quicker and easier to buy canned whipped cream, but in the long run, whipping cream is less expensive and a WORLD of difference. Why offer the uniqueness of frozen custard and top it with fruit and whipped cream from cans or jars?
Offer Specialty Cups and Cones:
Waffle cones are created by making a standard batter of flour, eggs, salt, sugar, milk, and butter. They're made flat to start then, while still hot, get shaped by a waffle cone maker which wraps the flat waffle around a conical rolling tool to form the cone shape. Waffle cones and waffle bowls can be dipped in chocolate and nuts or sprinkles.
You can marry the sweet with the savory and offer pretzel cones. The salt brings out the sweetness and excites the taste buds.
These options are a great upsell from the traditional cake or sugar cones or putting your masterpiece of a sundae in a plastic to-go bowl. Your frozen custard will taste even better in one of these edible and attractive vessels.
Presentation is everything:
Ice cream, custard, and all frozen desserts deserve a beautiful presentation. If you sell containers of ice cream to go, it's worth the extra cost to get containers with your branding on them. The name and logo of your restaurant with the web address should be on the container. It's a prettier way to package your frozen treats and a reminder to come back for more once the container is empty.
Desserts served at the table in your establishment should be eye-catching. Why?
For one, because the presentation is as much a part of foodservice as the food itself, but more importantly, dessert is an option, not a given. People may come to eat at your restaurant for that perfect burger or delicious fried chicken. They may come to your bistro for the best grouper tacos or to your gastro pub for your crispy pork belly and polenta, but your server may have to upsell them on dessert. "There's always room for some ice cream, right"?
The best way to convince them that there is indeed room for dessert is to see a gorgeous dessert being served at the table next to them. Be creative. Have an attractive and colorful dishware dedicated to your masterpieces that both adults and kids will love.
If you serve adult beverages in your establishment, make ice cream and frozen custard an "adult" choice. Beer floats are all the rage and typically use gelato, but frozen custard can also be used. Bananas Foster, incorporating rum, or brandied cherries with fresh whipped cream and crushed almonds or pecans, served in a whimsical bowl or boat will be an eye-catcher both on the menu and on the table.
If you don't have a frozen custard machine in your food establishment and want more information on the types and sizes available, we would love to discuss the options with you. The machines can be as small as a tabletop, and they are easy to use for your servers, who will likely have to make desserts quickly and correctly every time.