Frozen Custard and Summer Fruits – A great addition to your Ice Cream Business
Summer is here in full swing, and luscious and delicious things are growing. If you own an ice cream Store and have ice cream or frozen custard on the menu at your restaurant, café, or bistro, now is the time to get creative with those summer fruits while there readily available.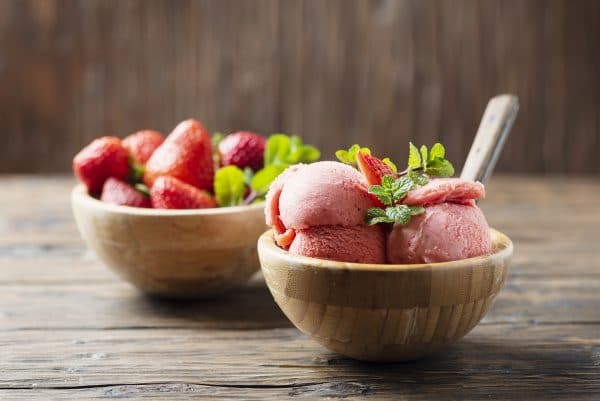 Here are some ideas of ways to incorporate summer fruits to make unusual desserts that will set you apart from the competition and make dessert the star of the show.  Let's look at the ABC's of summer fruits and how you can use them with ice cream or creamy frozen custard.
– Avocados: Yes, they are considered a fruit and while they can be available year-round, these fickle little treasures are always ripe in season in summer. Add them to a chocolate shake for the added richness of "good fat".
– Basil: Add fresh basil to your strawberry ice cream for a treat to the taste buds.
– Blackberries: These shiny, little gems can be used in so many ways. Fresh blackberry ice cream is lovely with sliced peaches or in a graham crust for amazing ice cream pie – add fresh whipped cream or meringue on top. Blackberries can be made into a compote for a sundae topping too.
– Blueberries: They're not just for pancakes. Like their fellow berries, they can be made into a compote to top a sundae, added to shakes, or just plopped fresh on top of ice cream and are especially nice coupled with lemon flavor.
– Cherries: We think of those bright red maraschino cherries to top ice cream, but fresh summer cherries are a whole different fruit. Bing and Rainier cherries are available from May to August and are relatively sweet. You can look into buying a cherry pitter. They are not expensive and will offer you a way to get the best use of these summer fruits with your frozen custard.
– Corn: Sweet corn can be cooked with cream, milk, and sugar to make a base for the most delicious summer ice cream you can imagine. Corn and milk go well together, and the sugar will bring out the corn's natural sweetness. Add a little hot fudge or caramel sauce and some chopped almonds or pecans, and you will have one unique dessert.
– Figs: Their primary season is during mid- to late-summer. Cook the figs down with a touch of balsamic vinegar and sugar and top a creamy vanilla custard or sweet corn ice cream. Layer with custard and peaches for a great parfait.
– Herbs: All sorts of fresh herbs grow throughout the summer. Mint, basil, even rosemary can elevate any ice cream or custard recipe.
– Mangos: Mango is hugely popular as an addition to so many things, from lemonade to margaritas. They require tropical heat to ripen and are best to eat in late spring and summer. Choose mangos for a great smoothy by adding custard. For a wonderful ice cream beverage, if you offer adult beverages, add a little white and a little dark rum to a mango and custard frozen shake or smoothy.
– Peaches: We all look forward to summer peaches as one of the highlights of summer eating. Peaches and cream is a mainstay of summer desserts, and adding custard or ice cream is a tradition. Use Raspberries or even blackberries with peaches for a timeless confection, Peach Melba. Layer creamy vanilla custard with a compote of berries, then a layer of fresh sliced peaches and repeat. Put this into a tall parfait glass. It will not only taste fantastic but will look good on the table. Other guests will order this when they see one go past.
– Pears: Poached pears with ice cream or pears baked into light pastry topped with custard makes a lovely, more adult dessert.
– Raspberries: These are the most delicate of all the berries. They make great smoothies, and like their fellow berries, can top sundaes or be used in adult ice cream beverages.
– Strawberries: These berries start to grow in January in Florida and continue to grow both there and in California throughout the summer. Strawberry is one of the most popular flavors after chocolate and vanilla and is something very special when made with fresh strawberries. Whipped cream was practically made to accompany strawberries. Make strawberry shakes, add them to sundaes, or top ice cream with their freshness. Waffles topped with the delight of frozen custard and summer fruits; topped with strawberries and whipped cream is the best of summer desserts.
If you don't have frozen custard on your menu yet, now is the time to consider getting a frozen custard machine. We can help with that! Contact us to see all the options we have to offer.