Buy a Frozen Custard Machine in Phoenix 
Are you on the market to buy a frozen custard machine in the Phoenix area? Look no further than this complete list of the best ones to get! Lancaster Manufacturing is located in Michigan but sells and equips top-of-the line frozen custard machines and equipment to ice cream stores and restaurants across the country.
There's no denying the appeal of dessert. Americans have a bigger sweet tooth than ever. In fact, 40 percent of Americans admit to eating dessert after a meal twice per week. Restaurant owners are taking advantage by adding frozen custard to their menu. With the wide variety of brands, technologies and prices, purchasing the right machine can seem overwhelming.
We've broken down the best makes and models to up your custard game. Read on to learn more.
What to Look For
Your frozen custard machine will be with you for a long time. You can expect your machine to last at least a decade. That is: if it's a quality machine. Many frozen custard machines break down over time due to low quality and frequent repairs. You should check with your distributor to make sure they have a solid reputation. You can also request warranty information and if they offer repairs.
You should also decide on the type of machine. Counter top models are less expensive,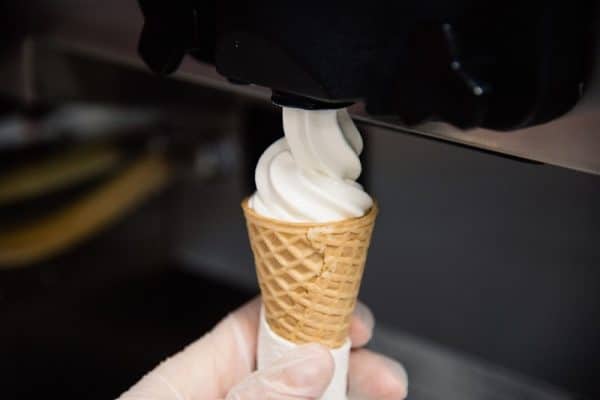 but might not hold up to the demands of your customers. Do you expect to consistently sell a high volume of custard? You might want to opt for a floor model instead. 
There's no denying that a frozen custard machine is a big investment. You can expect to pay between $8,600-$10,000 for a counter top machine and $19,000-$21,000 for a floor model. But price shouldn't be your top priority. It's crucial that you find a machine that makes the best custard ice cream.
Electro Freeze Sweet Choice
Are you looking for a reliable brand? Check out Electro Freeze. This longstanding company consistently provides trustworthy machines and new innovations. The Sweet Choice machine integrates a Fuzionate feature. This technology allows you to dispense everything from frozen custard to gelato and ice cream. You can also change flavors at the push of a button.
Sweet Choice provides an unparalleled level of variety and ease of use. You don't have to have multiple machines to change your flavor of style. This can save you big money in the long run.
SansiServ B-10
The SansiServ B-10 is a great option for people looking for a floor model. SansiServ designed this model to handle the demands of a high volume of customers. This 500-pound stainless steel machine is built to last. It's known for its simple use and longevity. It can also hold up to 10-quarts so you can make large batches of custard at once.
Stoetling CC303
Making custard has never been easier thanks to the Stoetling CC303. This triple barrel machine has three 9-gallon storage hoppers. That means you can make three large batches of your favorite flavors in an instant. The Stoetling CC303 is a high production model with great durability. The continuous feed system makes it easy to use. It's also designed to limit ice crystals so your customers can enjoy a creamier custard experience.
Your Frozen Custard Machine
Are you looking to purchase a frozen custard machine? We can help. Contact us today to find the right machine for you!