Tips When Buying Ice Cream Equipment
Knowing the 5 Tips When Buying Ice Cream Equipment outlined in this article should be of concern for every ice cream shop business owner. If you're in the market to buy new or used ice cream equipment, then these tips and tricks will set you on the right track!
In the United States, professionally-made ice cream is a billion dollar industry. Combine the lucrative profit motive the industry provides and the joy you get from eating and making ice cream. That makes it easy to see why anyone would want to get some skin in the game.
If you're interested in opening an ice cream shop, the first thing you need to do is buy ice cream equipment. If you're adding ice cream to the menu of your current restaurant business, these tips are just as relevant.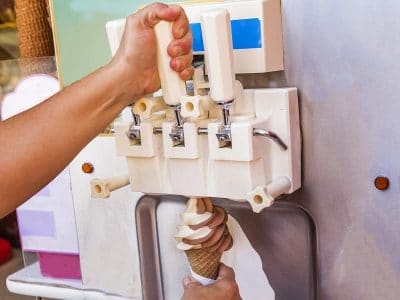 The 5 Tips When Buying Ice Cream Equipment
For Those That Are Not Well-Versed in This Field
Pick the Right Size for You: It may be tough to estimate, but you need to determine how much ice cream you're going to be making and selling. Frozen custard machines typically come in single, double or triple barrel options. Ultimately, this depends on the needs of the owner. Each barrel makes about 11 gallons of ice cream per hour. One gallon has about 30 scoops. If you think scoops of your ice cream are going to be selling like hot cakes, you may want to consider a double or triple barrel model.

Pick Your Price Point: Ice cream machines can be very expensive. They are like any other staple piece of kitchen equipment. Subsequently, you should take into consideration the amount you're willing to spend on a high-quality model. In addition, you should keep in mind that there are financing options available should you want a model you don't have cash on hand for.

Counter Top vs Floor Model: Another important decision to make is whether you want a counter top or a large floor model ice cream maker. If your shop aims to serve multiple flavors, you may be better off with a large floor model. If you're running a full-service restaurant that plans on adding ice cream to the dessert menu, a counter top model should do the trick.

Air Cooled vs Water Cooled: Professional ice cream machines keep the ice cream cold. There are two types of machines: air cooled and water cooled. Water-cooled machines are currently in vogue because they cool ice cream without the loudness that comes with air-cooled fans. However, the drawback is that the machine needs to be connected to a water line. For example, if you're going to be running your ice cream shop out of a truck, an air-cooled machine may be your best bet.

Consider Pre-Owned Equipment: It's always tempting to buy new no matter what you're purchasing. When it comes to ice cream machines, you can save a lot of money. You need to take into consideration buying pre-owned equipment. You can do this without sacrificing anything in quality. You may not want to go this route. In retrospect, it's always best to check out the used market before making a final decision on a purchase.
Finishing Up Tips When Buying Ice Cream Equipment
With these 5 tips, you'll be sure to buy the right ice cream equipment for your needs. If want more assistance on picking the right ice cream machine, consider contacting us. We'll be able to outfit you with the best equipment possible.