Frozen Custard Store Profitability
Take Advantage of This Opportunity
Frozen custard store profitability can be enhanced if you have the opportunity or desire to open multiple frozen custard stores. Operating more than one store will create a considerable profit potential.
Frozen custard is one of the most delicious and downright decadent frozen desserts out there. It's thicker and creamier than ice cream. Additionally, it's an under explored niche with vast profit potential. If you're an entrepreneur looking to create an exciting new businesses, the frozen dessert space is worth investigating and investing!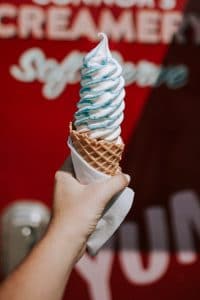 The Profitability of Frozen Custard
It's easy to see how budding entrepreneurs can make serious money through this unique and exciting product. Consider the example of a single frozen custard store.
Suppose you expect 4,500 customers per month to come through your doors. The average ticket sale is $5.00. With those numbers, revenues come out as $22,500 per month. That's not bad.
After subtracting food costs (around 30 percent of total revenue) and the cost of labor (approximately 28 percent of sales), you're left with an impressive $9,450 in profit for the month. Increase your customer numbers to 10,000 and you could make more than $31,500 per month.
Now imagine how much cash you could generate if you opened a second, third, fourth or fifth store. We could be talking about more than $100,000 in monthly profit for a frozen custard shop.
Have a number in mind? Try out our profit potential calculator.
Profit With a Frozen Custard Store
Our President, Tony Carey, has considerable experience helping entrepreneurs set up chains of frozen custard dessert stores across the country. Tony has a background in engineering and running a successful frozen dessert equipment company. Therefore, he has the expertise to help make your dream a reality by earning excellent money from a chain of outlets. In addition, Tony can assist you with all kinds of matters. He'll provide advice that includes marketing your store to selecting the right equipment for your operations.
The frozen custard store profitability is relatively straightforward. It's all based upon making the right choices early on in the decision making process. Your aim should be to sell at volume. The higher the sales you make, the greater your ability to cover your fixed costs. Subsequently, the higher your margins will be.
The most successful stores are those that nail their location. Secondly, you need to put yourself in the position to take full advantage of seasonal traffic.
To get the full benefits from this kind of business, you need the right advice. That's where Tony Carey fits into the picture. Tony's career in frozen custard desserts began in 2001 when he joined Ross Manufacturing. Ross was a company that made frozen custard-making equipment. A venture capitalist group bought out the company back in 2005.
As a result of Ross closing it's doors, Tony started his own company and named it Lancaster Manufacturing. He used his intellectual property and expertise in the industry and began manufacturing frozen custard machines. With this wealth of experience and expertise, Tony can provide you with excellent service and products from start to finish.